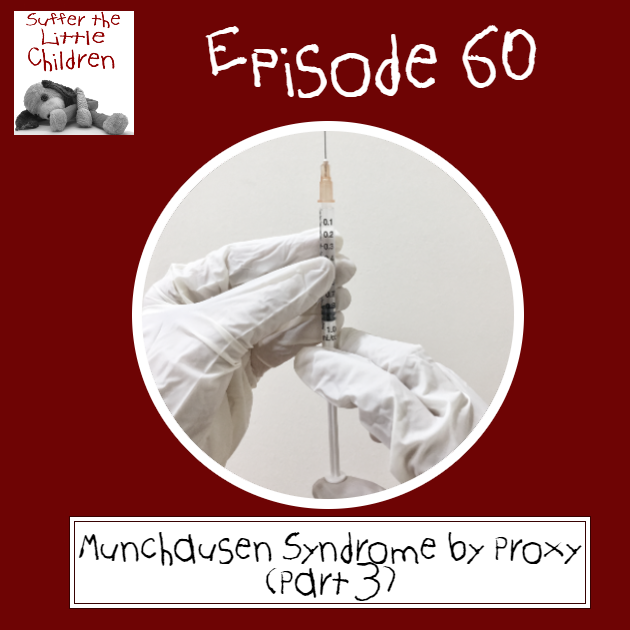 Over the last two episodes, I told you the story of five-year-old Garnett Spears, whose mother was convicted of his 2014 murder by sodium poisoning. Garnett's entire life was filled with medical procedures, treatments, medications, even surgeries he didn't need, all thanks to his mother's pathological need for attention. 
In this episode, the third in my series about Munchausen Syndrome by Proxy, I'll tell you the stories of other children affected by medical child abuse, and other caregivers -- mostly mothers -- whose bizarre behavior, lies, and willingness to abuse and even kill the children in their care is the reason for their inclusion on this list.
This is part 3 in my series about the inexplicable phenomenon of Munchausen Syndrome by Proxy.
Links:
Andrea Dunlop's novel, We Came Here to Forget
Dr. Marc Feldman's latest book, Dying to Be Ill
Huge thanks to today's sponsors:
Gemmist makes salon-quality hair care products backed by science, giving you personalized shampoo and conditioner recommendations based on your hair data. Use my code CHILDREN to get the best hair of your life and save 20%! Click here to take their hair quiz.
Smile Brilliant provides teeth whitening and oral care products customized just for you! Use my coupon code CHILDREN to save 30% by clicking here.
Photo for today's cover image: Kristine Wook on Unsplash
Photos related to today's episode can be viewed on Facebook and Instagram. 
You can also follow the podcast on YouTube, Twitter, Tumblr, TikTok, and Pinterest. My Linktree is available here.
Visit the podcast's web page at www.sufferthelittlechildrenpod.com.  
Please help make the show my full-time gig to keep the weekly episodes coming! By supporting me, you'll also access rewards, including a shout-out by name on the podcast and exclusive gifts! 
This podcast is researched, written, hosted, edited, and produced by Laine. 
For more stories like this one, visit Suffer the Little Children Blog.
Music for this episode is from www.AudioJungle.net. 
Subscribe to Suffer the Little Children on Apple Podcasts, Google Podcasts, Stitcher, Pandora, Spotify, iHeartRadio, YouTube, or your favorite podcast listening platform.