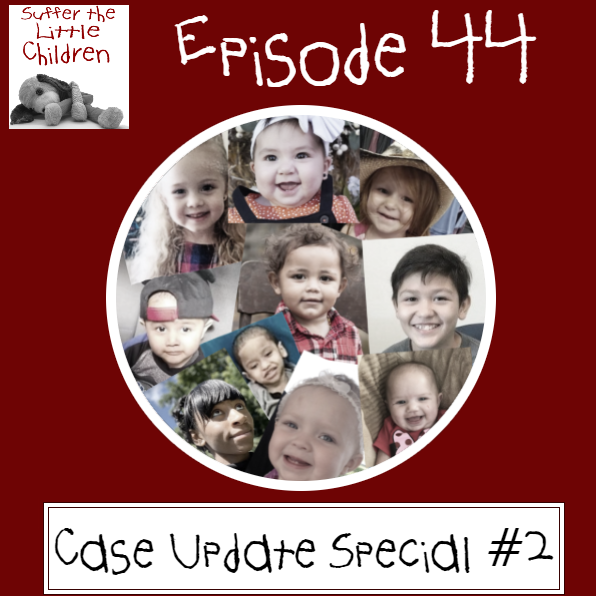 In my last episode, I updated you on the first dozen or so cases I covered on the podcast. In this episode, I'll provide updates on the next several cases I covered from episodes 13 to 24. 
The cases discussed in this episode include those of Marion Jester-Montoya, Charlette Dawkins, Eduardo Posso, Arabella Parker, Ky'mani Moore, Frankie Gonzalez, Treyanna Summerville, Sereniti Sutley, Remi Cowan, and Josias Marquez.
Promo in today's episode - Once Upon a Nightmare Podcast
Photos related to today's episode can be viewed on Facebook and Instagram. 
You can also follow the podcast on YouTube, Twitter, Tumblr, and Pinterest. 
Visit the podcast's web page at www.sufferthelittlechildrenpod.com.  
Please help make the show my full-time gig to keep the weekly episodes coming! By supporting me, you'll also access rewards, including a shout-out by name on the podcast and exclusive gifts! 
This podcast is written, hosted, edited, and produced by Laine. 
For these stories and more, visit Suffer the Little Children Blog.
Music for this episode is from www.AudioJungle.net. 
Subscribe to Suffer the Little Children on Apple Podcasts, Google Podcasts, Stitcher, Spotify, YouTube, or your favorite podcast listening platform.