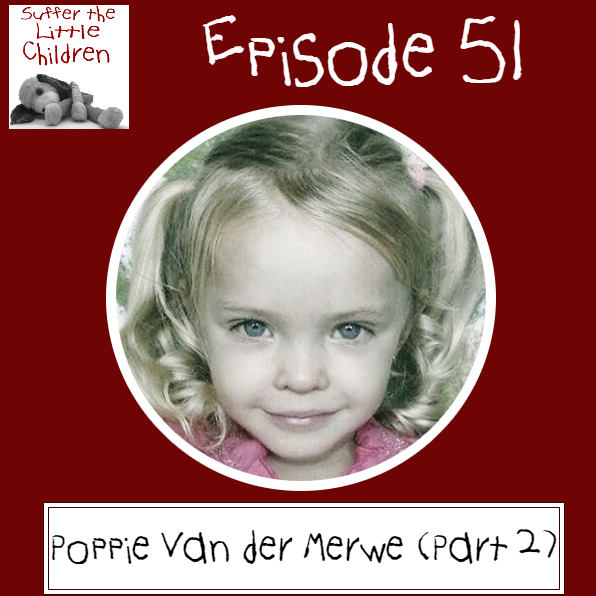 In episode 50, I began telling you the story of a three-year-old girl named Poppie Van der Merwe, whose utterly preventable death shocked the nation of South Africa. After multiple reports that Poppie and her five-year-old brother were being abused, social services became involved, but the family moved to avoid the investigation. Three weeks later, Poppie was dead, and in this episode, I'll go over the events that followed the arrests of both her stepfather and her mother.
This is the story of the murder of a blonde, blue-eyed little doll whose smile stole the hearts of an entire country. It's also a sadly familiar story of the failure of an agency tasked with protecting children despite countless warning signs and multiple reports from those close to the family. 
This is part 2 of the heartbreaking story of Poppie Van der Merwe. 
Francois Nolte's short film based on Poppie's story, Porselein, can be viewed here. (https://filmfreeway.com/Porcelain013)
Huge thanks to today's sponsor:
Smile Brilliant provides teeth whitening and oral care products customized just for you! Visit their website here.
Photos related to today's episode can be viewed on Facebook and Instagram. 
You can also follow the podcast on YouTube, Twitter, Tumblr, TikTok, and Pinterest. My Linktree is available here.
Visit the podcast's web page at www.sufferthelittlechildrenpod.com.  
Please help make the show my full-time gig to keep the weekly episodes coming! By supporting me, you'll also access rewards, including a shout-out by name on the podcast and exclusive gifts! 
This podcast is written, hosted, edited, and produced by Laine. 
For more stories like Poppie's, visit Suffer the Little Children Blog.
Music for this episode is from www.AudioJungle.net. 
Subscribe to Suffer the Little Children on Apple Podcasts, Google Podcasts, Stitcher, Spotify, iHeartRadio, YouTube, or your favorite podcast listening platform.