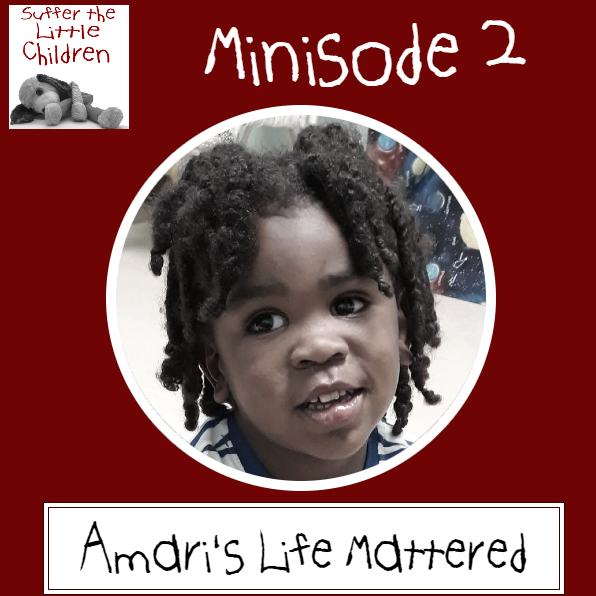 In Episode 12, I told you the story of 3-year-old Amari Boone, who was a ward of the state of Texas and under the care of foster parents when he died on Easter Sunday of 2020. Those foster parents, Deondrick Foley and Joseph Delancy II, were arrested last week and finally charged after 9 months. However, their charges of injury to a child come nowhere close to encompassing the brutal blunt force injuries Amari suffered, including broken ribs, arms, fingers, and pelvis, as well as bleeding in his brain that ended his short life.
My guest on this minisode is Amari's father, Rodney Boone, who won't rest until his son gets justice. Neither will the grassroots advocates who have pushed for justice for Amari for the past 9 months. We demand justice for Amari.#AmarisLifeMattered #JusticeForAmariBoone
Photos related to today's episode can be viewed on Facebook and Instagram. 
You can also follow the podcast on YouTube, Twitter, Tumblr, and Pinterest. 
Visit the podcast's web page at www.sufferthelittlechildrenpod.com.  
Please help make the show my full-time gig to keep the weekly episodes coming! By supporting me, you'll also access rewards, including a shout-out by name on the podcast and exclusive gifts! 
This podcast is written, hosted, edited, and produced by Laine. 
For more stories like Amari's, visit Suffer the Little Children Blog.
Music for this episode is from www.AudioJungle.net. 
Subscribe to Suffer the Little Children on Apple Podcasts, Google Podcasts, Stitcher, Spotify, YouTube, or your favorite podcast listening platform.