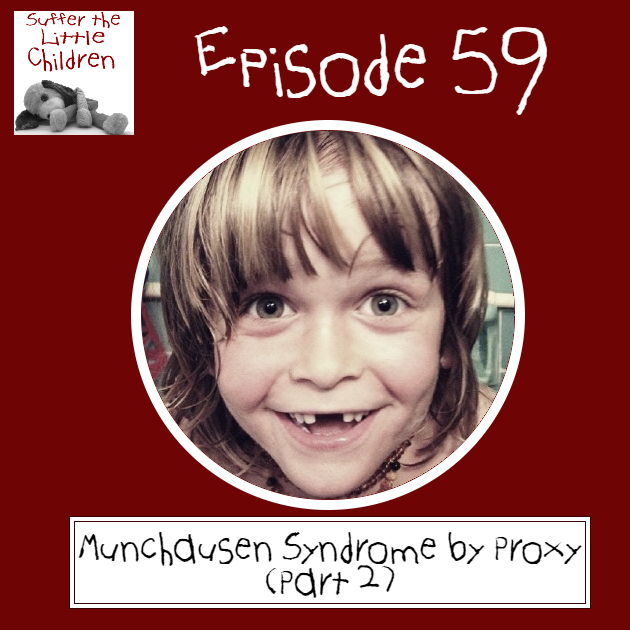 Most of us have heard of Munchausen syndrome by proxy thanks to its prevalence in popular culture, including TV, movies, books, and, of course, news articles, but what is it exactly? Is it a crime, a cry for help, a mental disorder, or something else entirely? 
In part one of this series, I told you what studies and experts have to say about this commonly misunderstood condition. I also told you the beginning of the story of 5-year-old Garnett Spears. Garnett's death in January of 2014 was the culmination of five brutal years of unnecessary surgical procedures, medications, hospitalizations, induced illnesses, and gratuitous suffering at the hands of his mother, and the egregiousness of Garnett's story has made his one of the most well known cases of Munchausen syndrome by proxy to date. In today's episode, I'll tell you the conclusion of Garnett's story, including his death and the 2015 murder trial of his mother, Lacey Spears.
This is part 2 of the baffling phenomenon of Munchausen Syndrome by proxy.
Links:
Dr. Marc Feldman's latest book
John Glatt's book, My Sweet Angel: The True Story of Lacey Spears, the Seemingly Perfect Mother Who Murdered Her Son in Cold Blood
Web of Lies on ID - The Sick Boy
48 Hours on CBS - A Mother Accused
Huge thanks to today's sponsors:
On the Military True Crime Addict podcast, host David Kokish covers lesser known cases involving military personnel, veterans, family members, and others associated with the military, giving voices to the victims of these crimes and raising awareness for those impacted by them. 
Monster Ivy Publishing, the premier publishing company for edgy, clean fiction, tackles the hard topics, much like I do on this podcast. Visit their website here: https://www.monsterivy.com/
Smile Brilliant provides teeth whitening and oral care products customized just for you! Use my coupon code to save 30% by clicking here.
Photos related to today's episode can be viewed on Facebook and Instagram. 
You can also follow the podcast on YouTube, Twitter, Tumblr, TikTok, and Pinterest. My Linktree is available here.
Visit the podcast's web page at www.sufferthelittlechildrenpod.com.  
Please help make the show my full-time gig to keep the weekly episodes coming! By supporting me, you'll also access rewards, including a shout-out by name on the podcast and exclusive gifts! 
This podcast is researched, written, hosted, edited, and produced by Laine. 
For more stories like this one, visit Suffer the Little Children Blog.
Music for this episode is from www.AudioJungle.net. 
Subscribe to Suffer the Little Children on Apple Podcasts, Google Podcasts, Stitcher, Pandora, Spotify, iHeartRadio, YouTube, or your favorite podcast listening platform.