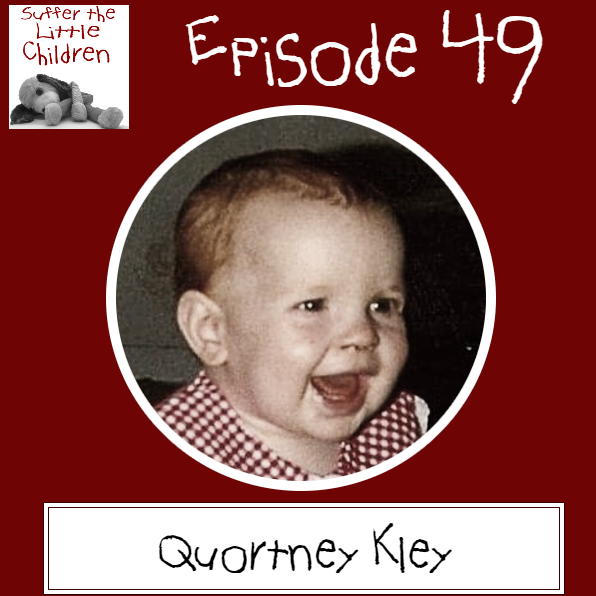 On February 25, 1997, 23-year-old Cayce Williams entered the emergency room at St. Joseph's Hospital in Elgin, Illinois, carrying the lifeless body of his girlfriend's 20-month-old daughter, Quortney Kley. Medical staff immediately called police, who arrested Cayce the same evening. Cayce was charged with several felony counts of murder, as well as predatory criminal sexual assault. 
Nine long years later, Cayce Williams accepted a plea agreement and was sentenced to 48 years in Illinois state prison. Due to a change in Illinois law, however, he was only required to serve 24 of those years behind bars. Now, he is scheduled to be released from the Dixon Correctional Center two weeks from this episode's release date.
In this episode, you'll hear my conversation with Quortney's mom, Gretta, in which we talk about her beloved, stubborn, sassy baby girl whose rapist and murderer is preparing to walk free from prison on February 25.
This is the mind-boggling story of Quortney Kley.
Huge thanks to today's sponsors:
Every bag of gourmet coffee purchased from Free Lunch Coffee provides 10 meals to hungry children! Visit their website here.
Smile Brilliant provides teeth whitening and oral care products customized just for you! Visit their website here.
The Justice for Quortney Kley Facebook page can be found here.
The event page for the February 24 protest outside Dixon Correctional Center can be found here.
Photos related to today's episode can be viewed on Facebook and Instagram. 
You can also follow the podcast on YouTube, Twitter, Tumblr, and Pinterest. 
Visit the podcast's web page at www.sufferthelittlechildrenpod.com.  
Please help make the show my full-time gig to keep the weekly episodes coming! By supporting me, you'll also access rewards, including a shout-out by name on the podcast and exclusive gifts! 
This podcast is written, hosted, edited, and produced by Laine. 
For more stories like Quortney's, visit Suffer the Little Children Blog.
Music for this episode is from www.AudioJungle.net. 
Subscribe to Suffer the Little Children on Apple Podcasts, Google Podcasts, Stitcher, Spotify, YouTube, or your favorite podcast listening platform.