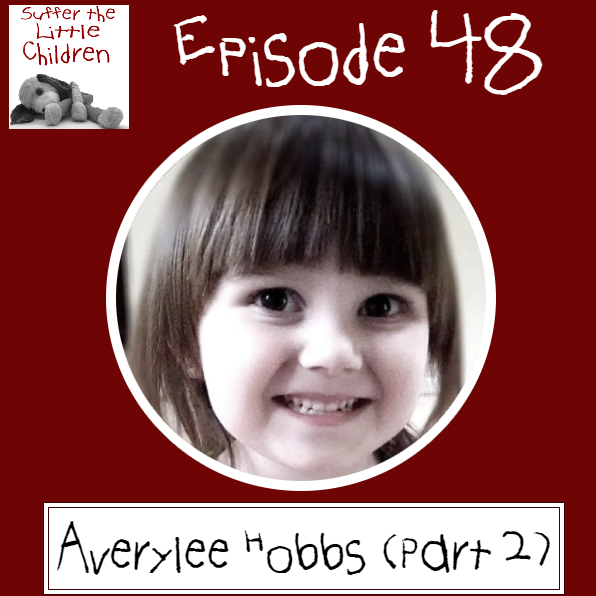 In episode 47, I started telling you the story of 4-year-old Averylee Hobbs, whose mother broke her skull as an infant, only to regain custody of Avery a few years later. In this episode, I'm going to tell you about the horrific and preventable end of this precious little girl's short life, the prosecution of her mother, and the many ways Avery's paternal grandmother is working to turn her tragic death into something positive. 
You'll also hear my interview with Avery's Mama, Tammy Risen, who was gracious enough to speak with me for the podcast. Tammy, who calls herself "A Granny with a Mission," is truly a force to be reckoned with, and she refuses to let Avery's death be in vain. 
This is a story of a mother who can only be described as evil, of domestic partner and child abuse, of ineptitude and corruption in the systems designed to protect children, and of a family who first fought to save Avery's life, then fought for justice for her, and now fight to protect other children like her. 
This is part 2 of the tragic, infuriating, preventable story of Averylee Hobbs.
Huge thanks to Podcorn for sponsoring this episode! Explore sponsorship opportunities and start monetizing your podcast by signing up here.
To purchase Tammy Risen's book, In the Best Interest of a Child, for Kindle, click here.
Tammy's public Facebook group, D.E.A.R. Developing Essential Advocate Restoration for Abused Children, can be found here.
For more information about Avery, news and current events about the case, media links, and information about The Avery Statute, visit the Justice4Avery website here.
Photos related to today's episode can be viewed on Facebook and Instagram. 
You can also follow the podcast on YouTube, Twitter, Tumblr, and Pinterest. 
Visit the podcast's web page at www.sufferthelittlechildrenpod.com.  
Please help make the show my full-time gig to keep the weekly episodes coming! By supporting me, you'll also access rewards, including a shout-out by name on the podcast and exclusive gifts! 
This podcast is written, hosted, edited, and produced by Laine. 
For more stories like Avery's, visit Suffer the Little Children Blog.
Music for this episode is from www.AudioJungle.net. 
Subscribe to Suffer the Little Children on Apple Podcasts, Google Podcasts, Stitcher, Spotify, YouTube, or your favorite podcast listening platform.