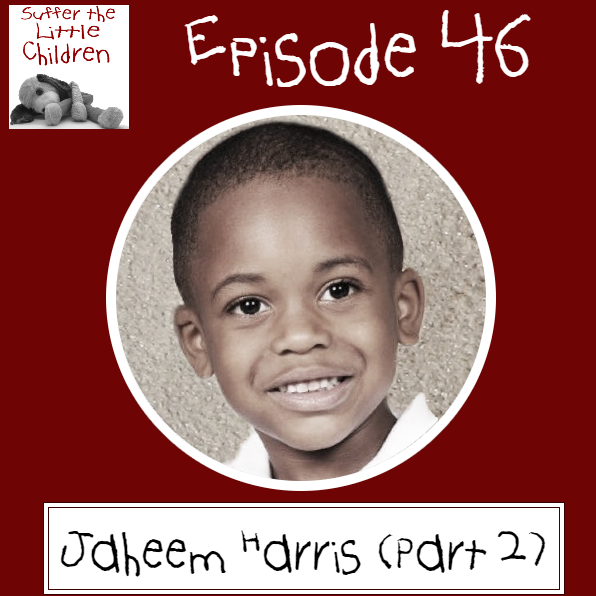 Last week, I told you the story of Jaheem Harris, who died on July 8, 2017 after his mother's ex-boyfriend, who was allowed to babysit Jaheem and his siblings despite a no-contact order between the man and Jaheem's mother, called 911 to report that Jaheem had possibly drowned in the bathtub. Jaheem's extensive blunt force injuries led police to arrest the man, who was ultimately convicted and sentenced to 50 years in prison with no mandatory minimum. 
This is a story of a little boy who was failed by not only child protective services but also the criminal justice system -- and, many believe, by his own mother. On today's episode, you'll hear my conversation with Jaheem's paternal grandmother, Shay Caston, who raised her grandson for most of his short life, and who Jaheem called "my real Mama."
This is part 2 of the heartbreaking story of Jaheem Harris.
Huge thanks to Podcorn for sponsoring this episode! Explore sponsorship opportunities and start monetizing your podcast by signing up here: https://podcorn.com/podcasters 
Photos related to today's episode can be viewed on Facebook and Instagram. 
You can also follow the podcast on YouTube, Twitter, Tumblr, and Pinterest. 
Visit the podcast's web page at www.sufferthelittlechildrenpod.com.  
Please help make the show my full-time gig to keep the weekly episodes coming! By supporting me, you'll also access rewards, including a shout-out by name on the podcast and exclusive gifts! 
This podcast is written, hosted, edited, and produced by Laine. 
For more stories like Jaheem's, visit Suffer the Little Children Blog.
Music for this episode is from www.AudioJungle.net. 
Subscribe to Suffer the Little Children on Apple Podcasts, Google Podcasts, Stitcher, Spotify, YouTube, or your favorite podcast listening platform.