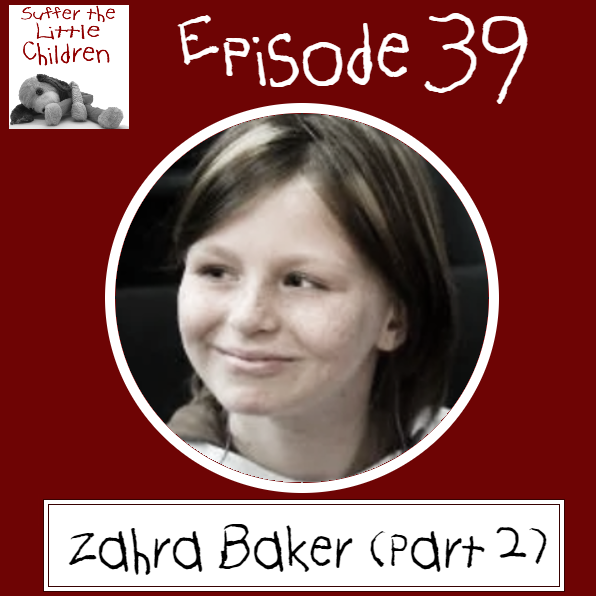 Last week, I started telling you the story of 10-year-old Zahra Baker, who kept her brilliant smile and sunshiney outlook despite surviving two bouts of cancer, the amputation of one leg, the loss of her hearing, and growing up without her mother. When her father brought a new woman into her life, Zahra was excited to have a stepmother, but as soon as the family moved from Australia to the stepmother's native state of North Carolina, Zahra began showing up at school with bruises when she showed up at all.
In October of 2010, Adam and Elisa Baker reported Zahra missing, but within days, Elisa started talking and leading investigators to multiple locations where parts of Zahra's little body had been dumped. 
This is the conclusion of the unbelievable story of Zahra Baker.
Promo in today's episode: A Little Bit Grim
Photos related to today's episode can be viewed on Facebook and Instagram. 
You can also follow the podcast on YouTube, Twitter, Tumblr, and Pinterest. 
Visit the podcast's web page at www.sufferthelittlechildrenpod.com.  
Please help make the show my full-time gig to keep the weekly episodes coming! By supporting me, you'll also access rewards, including a shout-out by name on the podcast and exclusive gifts! 
This podcast is written, hosted, edited, and produced by Laine. 
For more stories like Zahra's, visit Suffer the Little Children Blog.
Music for this episode is from www.AudioJungle.net. 
Subscribe to Suffer the Little Children on Apple Podcasts, Google Podcasts, Stitcher, Spotify, YouTube, or your favorite podcast listening platform.