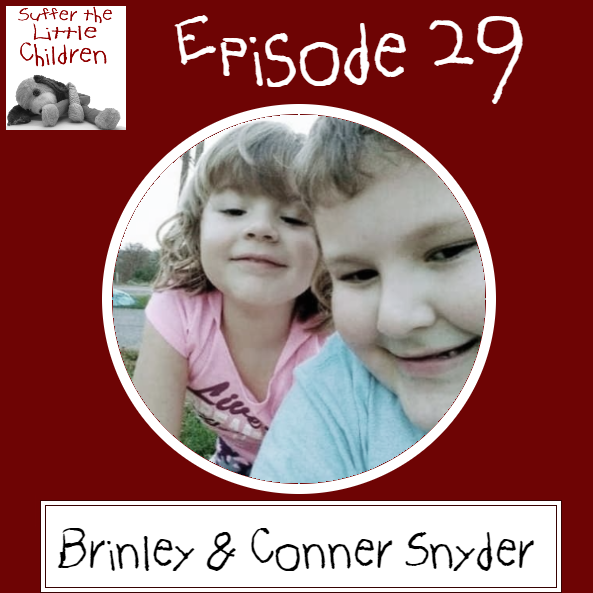 On September 23, 2019, 36-year-old Lisa Snyder of Albany Township, Pennsylvania called 911 and reported her two children were unresponsive. When EMTs arrived, they found a scene straight out of a horror movie or any mother's nightmare; in the basement of the modest brick home, 8-year-old Conner and 4-year-old Brinley were hanging by their necks from either end of a wire dog lead wrapped around a support beam in the ceiling. Lisa's story pushing the theory of a murder suicide perpetuated by 8-year-old Conner, who she said had been bullied in school, quickly fell apart, and a few months later, investigators had enough evidence to charge Lisa with not only the murder of her two children, but other baffling and frankly disgusting crimes, as well.
This is the unimaginable story of Conner and Brinley Snyder.
To contribute to the GoFundMe benefiting Conner and Brinley's older brother, Owen, click here. 
If you (or someone you know) are having thoughts of suicide, please call the National Suicide Prevention Lifeline (in the US) at (800) 273-8255 or visit the website.
Within the US, you can also text the word HOME to 741741 to connect with a Crisis Text Line counselor. You are not alone.
Photos related to today's episode can be viewed on Facebook and Instagram.You can also follow the podcast on YouTube, Twitter, Tumblr, and Pinterest. 
Visit the podcast's web page at sufferthelittlechildrenpod.com. 
Please help make the show my full-time gig to keep the weekly episodes coming! By supporting me, you'll also access rewards, including a shout-out by name on the podcast and exclusive gifts! 
This podcast is written, hosted, edited, and produced by Laine. 
Brinley and Conner's story was originally featured on Suffer the Little Children Blog.
Music for this episode is from AudioJungle.net. 
Subscribe to Suffer the Little Children on Apple Podcasts, Google Podcasts, Stitcher, Spotify, YouTube, or your favorite podcast listening platform.