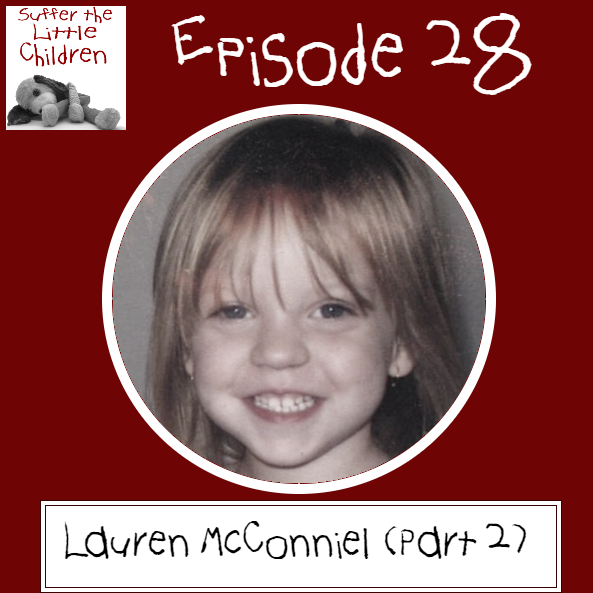 Last week, I told you about the early life and brutal death of five-year-old Lauren Michele McConniel. When Lauren was admitted to Riley Children's Hospital in Indianapolis on March 3, 2010, she weighed a scant 28 pounds and had absolutely no fat reserves. She was covered in injuries, had a deadly level of salt in her blood, and had been displaying increasingly disturbing behavior while living in Indiana with her father, stepmother, and three adult members of her family, behavior that many believe was caused by sexual abuse at the hands of her step-grandfather. All the while, Amber's mother, who lived in Tennessee, had been exhausting every method possible to find her, but by the time someone told her where her daughter was, it was too late. Lauren died in the hospital on March 9, 2010. Three months later, the first of five adults would be arrested in connection with Lauren's death.
This is the conclusion of the story of Lauren McConniel.
Photos related to today's episode can be viewed on Facebook and Instagram.You can also follow the podcast on YouTube, Twitter, Tumblr, and Pinterest. 
Visit the podcast's web page at sufferthelittlechildrenpod.com. 
Please help make the show my full-time gig to keep the weekly episodes coming! By supporting me, you'll also access rewards, including a shout-out by name on the podcast and exclusive gifts! 
This podcast is written, hosted, edited, and produced by Laine. 
Lauren's story was originally featured on Suffer the Little Children Blog.
Music for this episode is from AudioJungle.net. 
Subscribe to Suffer the Little Children on Apple Podcasts, Google Podcasts, Stitcher, Spotify, YouTube, or your favorite podcast listening platform.