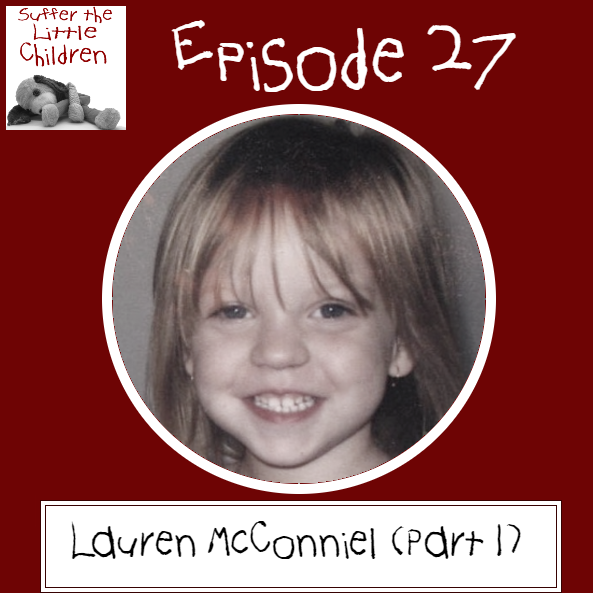 Five-year-old Lauren Michele McConniel was a happy, healthy, vibrant child until she was unjustly torn away from her loving mother in Tennessee. In Indiana, Lauren's father and stepmother refused to allow her mother to see her, and, along with three members of her stepmother's family, spent several months physically and sexually abusing Lauren until she ultimately starved to death in March of 2010. Five people were convicted in connection with Lauren's death, and three of them remain behind bars to this day.
This is the disturbing story of Lauren McConniel.
Photos related to today's episode can be viewed on Facebook and Instagram.You can also follow the podcast on YouTube, Twitter, Tumblr, and Pinterest. 
Visit the podcast's web page at sufferthelittlechildrenpod.com. 
Please help make the show my full-time gig to keep the weekly episodes coming! By supporting me, you'll also access rewards, including a shout-out by name on the podcast and exclusive gifts! 
This podcast is written, hosted, edited, and produced by Laine. 
Lauren's story was originally featured on Suffer the Little Children Blog.
Music for this episode is from AudioJungle.net. 
Subscribe to Suffer the Little Children on Apple Podcasts, Google Podcasts, Stitcher, Spotify, YouTube, or your favorite podcast listening platform.