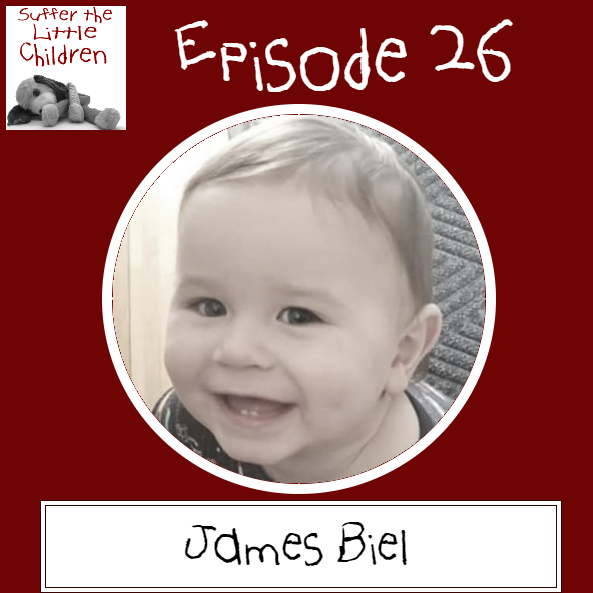 Illinois mother Kara Witkowski, who joins me on today's episode, spent months trying to protect her two young children from harm while in the care of their father. Thomas Biel had confessed to raping and abusing Kara and was under investigation for possessing child pornography. His father, Jerry Biel, was being investigated for allegedly molesting Kara's 3-year-old daughter. Despite months of warnings from Kara, meticulous documentation backing up her claims, and the repeated hospitalization of her toddler son for a prolapsed rectum so severe that even surgery didn't correct it, a family court judge granted full custody to Thomas Biel. Soon afterward, Kara's 2-year-old son, James, died under suspicious circumstances while in the care of his father's family, but police announced after less than 24 hours, even before an autopsy was performed, that there had been no foul play. Even though an independent second autopsy proved that spinal trauma caused James's death, there has still been no investigation.
This is a story of corruption and injustice in Kane County, Illinois. 
This is the infuriating story of James Biel. 
Please sign and share the petition to reopen the investigation into the death of James Ryker Biel.
Please like and share the Justice for James Facebook page.
Photos related to today's episode can be viewed on Facebook and Instagram.
You can also follow the podcast on YouTube, Twitter, Tumblr, and Pinterest. 
Visit the podcast's web page at sufferthelittlechildrenpod.com. 
Please help make the show my full-time gig to keep the weekly episodes coming! By supporting me, you'll also access rewards, ranging from a shout-out by name on the podcast and exclusive gifts! 
This podcast is written, hosted, edited, and produced by Laine. 
James's story was originally featured on Suffer the Little Children Blog.
Music for this episode is from AudioJungle.net. 
Subscribe to Suffer the Little Children on Apple Podcasts, Google Podcasts, Stitcher, Spotify, YouTube, or your favorite podcast listening platform.