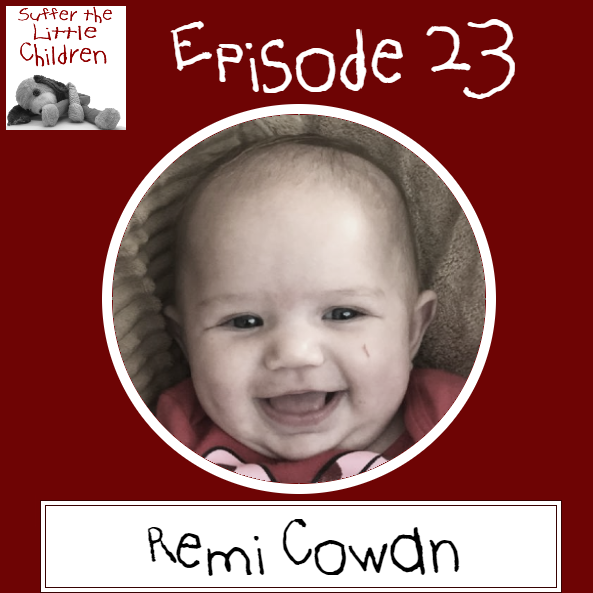 On June 6, 2019, every parent's worst nightmare became reality for Ashley and Matt Cowan of Williamsport, Pennsylvania when they received a frantic phone call from their babysitter saying their infant daughter wasn't breathing. The next day, 16-week-old Remi Joan Cowan was removed from life support. Despite the suspicious circumstances surrounding Remi's death, the babysitter was only questioned once and never further investigated, leaving many area residents furious that justice was not served. 
Remi's mother, Ashley Cowan, joins me on this episode to tell her candid and agonizing account of losing her precious baby girl, why she feels her daughter deserves justice, and how she's keeping Remi's memory alive.
This is the shocking, painful story of Remi Cowan.
Photos related to today's episode can be viewed on Facebook and Instagram. You can also follow the podcast on YouTube, Twitter, Tumblr, and Pinterest. 
Visit the podcast's web page at sufferthelittlechildrenpod.com. 
Please help make the show my full-time gig to keep the weekly episodes coming! By supporting me, you'll also access rewards, including a shout-out by name on the podcast and exclusive show merch! 
This podcast is written, hosted, and produced by Laine. 
Remi's story was originally featured on Suffer the Little Children Blog.
Music for this episode is from AudioJungle.net. 
Subscribe to Suffer the Little Children on Apple Podcasts, Google Podcasts, Stitcher, Spotify, YouTube, or your favorite podcast listening platform.