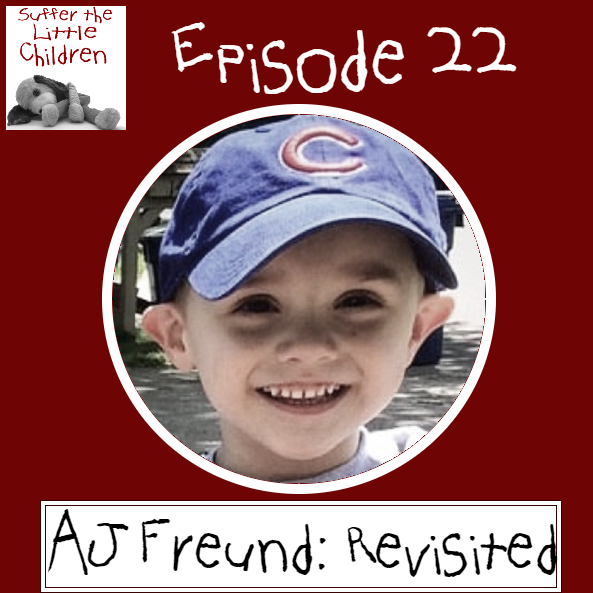 On April 18, 2019, JoAnn Cunningham and Drew Freund of Crystal Lake, Illinois reported their 5-year-old son, AJ, missing. Days later, police discovered AJ's bludgeoned body in a shallow grave. JoAnn and Drew were arrested and charged in their son's murder.
Last week, JoAnn Cunningham, who pleaded guilty in her son's death, was sentenced to a paltry 35 years in prison despite mountains of evidence that she scapegoated, tortured, berated, and abused little AJ right up till the night he died, when she beat him so viciously with a shower head that the swelling of his brain caused his vital functions to cease. In this episode, you will hear riveting testimony, shocking revelations, and audio presented at the sentencing hearing.
This is the tragic case of AJ Freund, revisited.
Photos related to today's episode can be viewed on Facebook and Instagram. You can also follow the podcast on YouTube, Twitter, Tumblr, and Pinterest. 
Visit the podcast's web page at sufferthelittlechildrenpod.com. 
Please help make the show my full-time gig to keep the weekly episodes coming! By supporting me, you'll also access rewards, including a shout-out by name on the podcast and exclusive show merch! 
This podcast is written, hosted, and produced by Laine. 
AJ's story was originally featured on Suffer the Little Children Blog.
Music for this episode was created by Laine using sounds from AudioJungle.net. 
Subscribe to Suffer the Little Children on Apple Podcasts, Google Podcasts, Stitcher, Spotify, YouTube, or your favorite podcast listening platform.