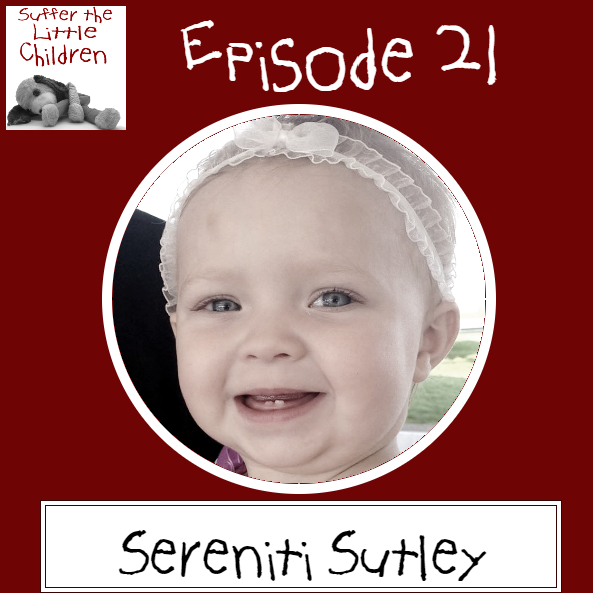 On October 7, 2017, 22-year-old Kelsie Blankenship burst out of her Conneaut, Ohio apartment, carrying the limp body of her almost-13-month-old daughter, Sereniti. When the police arrived, Kelsie was screaming, "Help my baby!" It was too late, however, and Sereniti was pronounced dead at the hospital. After both Kelsie and her live-in boyfriend, Joshua Gurto, were questioned, Joshua went on the run, resulting in a 3-week manhunt that culminated with his capture in Franklin Park, Pennsylvania. He was charged with the rape and murder of his girlfriend's baby girl. A full year later, Kelsie Blankenship was apparently blindsided when she, too, was arrested in connection with her daughter's death.
This is the horrific story of Sereniti Sutley.
Photos related to today's episode can be viewed on Facebook and Instagram. You can also follow the podcast on YouTube, Twitter, Tumblr, and Pinterest. 
Visit the podcast's web page at sufferthelittlechildrenpod.com. 
Please help make the show my full-time gig to keep the weekly episodes coming! By supporting me, you'll also access rewards, including a shout-out by name on the podcast and exclusive show merch! 
This podcast is written, hosted, and produced by Laine. 
To read other stories like Sereniti's, visit Suffer the Little Children Blog.
Music for this episode was created by Laine using sounds from AudioJungle.net. 
Subscribe to Suffer the Little Children on Apple Podcasts, Google Podcasts, Stitcher, Spotify, YouTube, or your favorite podcast listening platform.